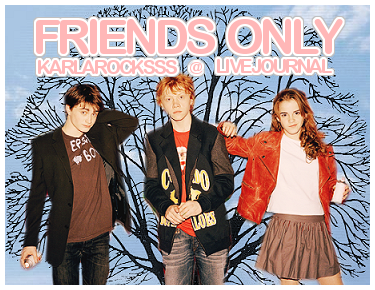 To see the graphics, you must have me as a friend. Friend me, I don't bite :)
Favorite shows
: Glee, Everybody Hates Chris, Gossip Girl, 10 Things I Hate About You, Make It or Break It, True Jackson VP, Full House, Family Matters.
Favorite Movies
: Harry Potter (ALL of them!), Avatar, Matilda, Shorts, All About Steve, All the Disney Clasics,
Favorite Actors/Actress
: Daniel Radcliffe, Emma Watson, Rupert Grint, Tom Felton, Matt Lewis, Alfie Enoch, Kristen Stewart, Ashley Greene, Kellan Lutza, Sophia Bush, Demi Lovato, Meghan Martin, Jimmy Bennet, Keke Palmer, Matt Shively.
Fandoms
: Harry Potter, reading, writing, music, iPhone, graphic editing, computers, movies, british people, London, England♥
If you have any intrests, comment and we can be friends :)